Wanting to do something different, I recently came up with a fun and beautiful way to photograph an ethnic bride. And you can easily adapt my techniques for your children or other portrait subjects. My photographs began with an image in my mind of my Indian bride floating among flowers. I considered how I might achieve the effect digitally, with the sparkling blue water offsetting her outfit and jewelry. But there's just no substitute for the real thing!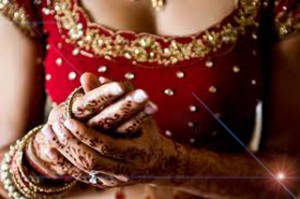 Luckily, my model went for the concept and was an extremely good sport, consenting to use her parents' pool. Because of the veil and flowers, we needed some assistants. I positioned her mom in the pool arranging the flow of the head covering and nearby floating flowers. My assistant pushed flowers into the picture frame on the opposite side from the mother. Without as many details to worry about, it would be possible to do a shoot with only one assistant or even solo.
For clothing, I recommend using washable fabrics, which is what I used for my water bride. Chiffon floats and flows beautifully. But let your imagination go–perhaps use a hat instead of a veil or if you have a female subject, a peasant blouse might make a great frame for her face. Many subjects may not want to risk using their good clothes in a pool, so a bathing suit is another option.
For props, let your imagination go too! But remember, it's probably best to go with something that floats! For this shoot, I used chrysanthemums, with the stems cut off. If flowers are used, they can be color-coordinated with the model's outfit.
For make-up, lip-gloss is a must for children and adults. Even a man's lips look sexier with colorless shine. I also usually put a little blush on both women and children for a healthy glow. Baby oil or mineral oil helps to keep the model warmer and makes the skin look good.
Originally, I wanted my subject to float on her back and look up at the camera, but that would have messed up her careful make-up job and hair. So we went with partial submersion for most of the shoot. However, in the few frames that we did shoot on her back, she looked very uncomfortable. If your subject is unhappy, the portraits will reflect their mood. However, a water-safe child would probably float easily. And if your subject is a woman with long hair, you could achieve a dramatic effect by fanning her hair out around her head.
Another important thing to consider when working in a swimming pool is the subject's temperature. To maintain your subject's warmth, it is best to keep them moving, even a little bit. I found slow sweeping motions with the arms were good for both the body temperature of the model and dramatic effect for my pictures.
For equipment, a zoom lens (somewhere around 50-150mm) is great for framing and taking pool walls out of the picture. An assortment of filters, such as cross-screen or 6X star, fog or soft focus, can reap many dramatic effects. And a small (steady!) stepladder can really put you over your floating subject These images were made on Kodak Ektachrome Elite 400 film. I didn't use any flash because I found that when I shot with fill flash, it eliminated the effects of my 6X star filter.
So the next time you can't find an exciting location for your portraits, don't let your spirits get dampened. Get your subjects wet! Using a pool background can create spectacular portraits for your family album!